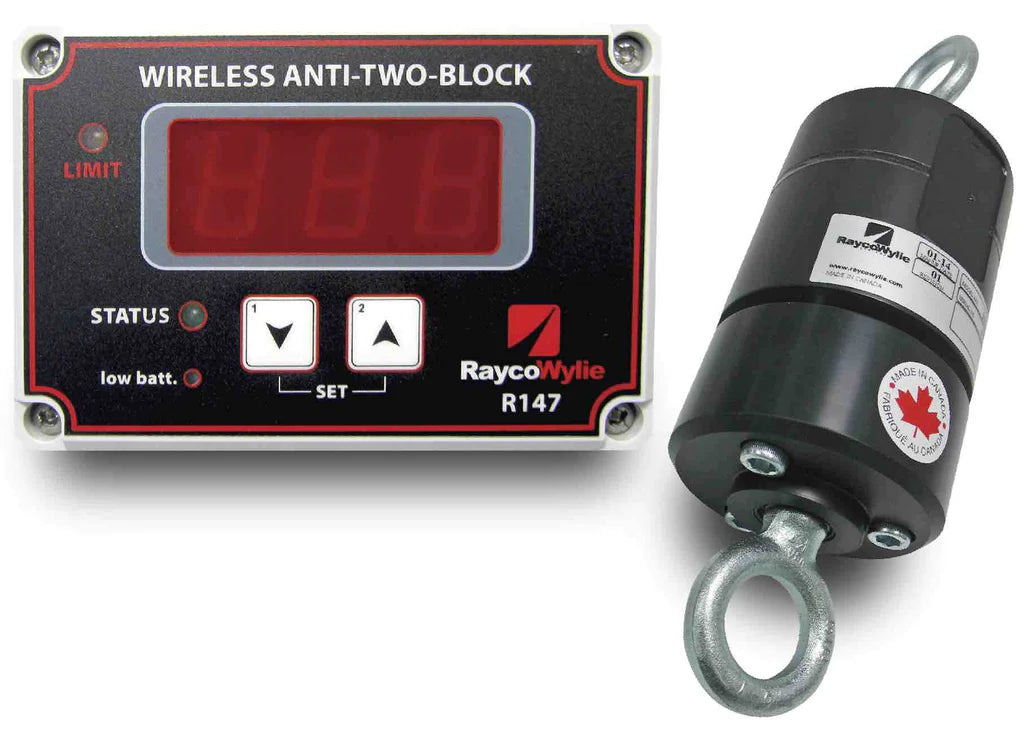 Crane Anti Two Block
Crane Anti Two Block Switches and Kits
Anti-two-block (ATB) systems assist in keeping the hook block on the main line or the headache ball on the auxiliary line from colliding with the tip of the boom.  An anti-two-blocking system is a relatively simple electrical equipment constructed with a detector or switch that is located at the boom tip and a readout of some sort that is where the operator is; usually consisinting of a visual and audible alarm.  Some systems also trigger lockout solenoids on the crane itself to assist the crane operator in preventing two-blocking accidents. Wireless ATB and hardwired ATB systems are two of the most prominent variants of this safety technology currently used by multiple operators.
The 031-002-060-011 PAT Hirschmann anti two block (A2B) switch is the most utilized hardwired switch for older cranes with DS350 systems on them.  It can be found HERE

An anti-two-block device is simple to set up and use and works with all types of cranes including lattice, mobile, or booming telescoping truck crane. Whenever the hook exceeds the final permissible length, the audio-visual alerts on the screen notifies the operator. Hardwired A2B devices are ideally suited for permanent boom cranes and assist the operator in ensuring that the hooks do not come into touch with the booming tip.  Wireless ATB devices are simpler to install and operate so are a quicker option for mobile or lattice cranes.  Most wireless anti two block systems now come in a stand alone "kit" that works right out of the box. 
The RaycoWyle R147 Wireless Anti Two Block Kit is the most popular stand alone or retrofit A2B kit that works right out of the box.  It can be found HERE
Prevents Two Blocking Crane Accidents with Anti-Two Block System

On a busy construction site it can be very simple to have a quick oversight.  For example one can could be working on roadside projects such as bridges or other over /under passes. If you mistakenly engaged the crane's main hoist without noticing it or if perhaps its out of view then a two block can happen. This can result in a variety of crane damages.
These two blocking mishaps can injure the persons on the ground and at the very least damage equipment; hence, it is vital to have the right systems in place to avoid such accidents; this is where an anti 2 block system comes in to play. 
The anti-two-block switches normally are sealed enclosures to protect them from the elements.  The lifespan of such a switch can be many years if properly maintained.  One factor that does cause damage to these switches over time is boom vibration, be it from regular use or things such as pile driving. 
The Trimble LSI GS075 B anti two block switch is a popular option for wireless LMI crane computer systems utilizing the GS550 or GS820 display.  It can be found HERE. 

Features and Benefits of Crane Anti-Two Block

Do you want to know the features or benefits of anti-two blocking devices on cranes? Let us help you by providing the information you require to understand while bringing this technology. Anti-two block is a sleek and reliable design technology that has multiple advantages, have a look at some of them below:- 
Trustworthy and Reliable Wireless Communication
Significant communication range for trouble free use
Get started quickly with a straightforward installation
Sunlight-readable display, illuminated for visibility at night
Wireless technology eliminates the possibility of cable damage
Increase Construction Site Safe Operation
Increases worker awareness and provides actual information
Eliminates the potential of a fallen cargo or an on-site injury
Avoid personal injury and crane loading damage
Flexible and Adaptable Technology
Simple to modify to Supplier cable connections
Alternatives for safe functioning in dangerous environments
Adjustable visible and auditory alarms
There are numerous advantages to implementing an A2B monitoring system on your cranes. To begin with, it safeguards your team's protection, providing them with a feeling of security and contributing to greater effectiveness and profitability at work. Furthermore, an ATB alert system can assist you in ensuring that lifting operations are handled safely and that the load is transferred securely even without causing any harm to the properties.
Are you seeking a reliable and high-quality LMI or Anti-Two-Blocking System to install in your cranes? Don't look further; get in touch with BTS Crane Parts, a global supplier of crane LMI computer safety systems that will provide you appropriate Crane Anti-Two-Blocking System.


Complete LMI Replacement Systems:  CraneComputerStore.com
Trimble-LSI | RaycoWylie | PAT-Hirschmann:  store.bodetechnicalservices.com